30 Apr
by Speak For Success International
When delivering presentations or speaking in public at meetings, events, conferences or any social gatherings, it is important to never underestimate the power of nonverbal communication and positive body language.
When I first meet clients, I will always tell them 3 simple figures to remember when they are thinking about public speaking.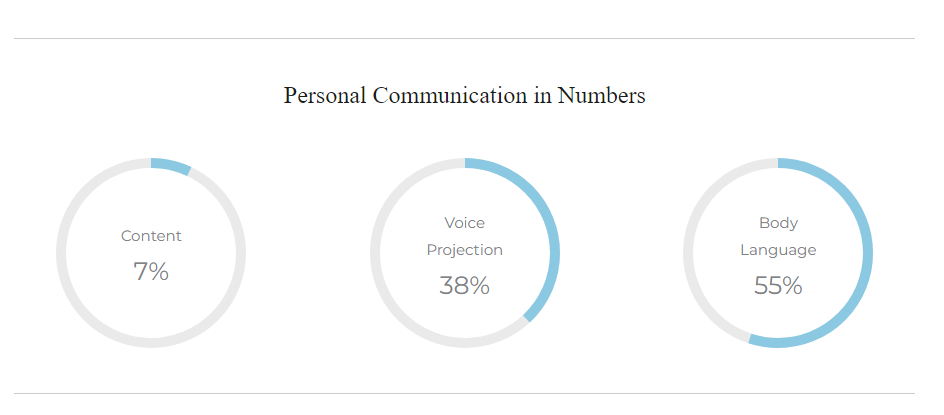 I am by no means saying that content is not important, it is very important! BUT no matter how good your content is, without positive body language and good nonverbal techniques your message will not be as effective!
8 Simple Steps to Follow
If you are preparing a presentation or planning on speaking at a public event remember the following 8 steps:
APPEARANCE – Dress properly for every audience. Do not dress as you would wish to, but as to what the audiences would expect.
POSTURE – Check your Posture by putting the back of your head, your heels and your bottom against a door. This is a great posture.
EYE CONTACT – Most presenters, public speakers – do not make eye contact that connects with the audience. Proper eye contact is 3 – 5 Second mini conversations with each person in the audience if the audience is no more than 25 people. If more than 25, take in groups of people with eye contact.
FACIAL EXPRESSION – Smile, Glow, be animated
HANDS AND ARMS – Eliminate frozen positions such as "Fig Leaf" and "Hail Mary"
BODY MOVEMENT – Move 2/3 steps to the left and to the right. Do not pace
SIZE OF GESTURES – The larger the audience the larger the gestures
DISTRACTING MANNERISMS – Any repetitive motion will take from your message
It is a great idea to practice your presentation in front of someone at home or even in front of a camera first, as you may have picked up some bad habits you might not be aware of.
Please feel free to contact me if you require any more information on nonverbal communication and good body language skills.